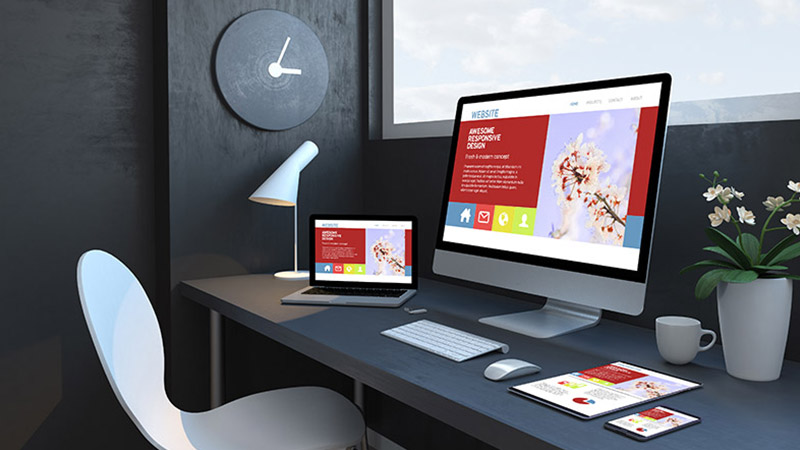 What is responsive web design?
A responsive web design uses a fluid and flexible layout so that your website can respond and adapt to the screen size of any device customers use. For example, your website is going to be viewed on desktops, tablets, and mobile phones. The significance of responsive web design is that it offers an optimized browsing experience. Mainly, your website will look simple, stunning, and work well on a desktop, laptop, tablet, and mobile phone's browser.
When you expect your business to have a digital presence in Dubai, then you should provide a full experience of your website on mobile, tablet, and desktop.
Mobile phones are the most used devices in Dubai to check websites. So, you will need a website that is user-friendly on various mobile screen sizes and browsers that are popular. And providing a consistent experience for all device users is important.
We design and develop websites in Dubai with the user's point of view. We plan how your website design will look on a mobile device from the beginning. Our Web designers are well experienced will build your website to be responsive and make sure your website works well in all screen sizes. We have designed and developed hundreds of responsive websites in Dubai, United Arab Emirates. Specialized in building a stunning, professional website that makes your business look impressive and stand out from the crowd.
Everything about user experience.
Your customers need to have the best possible experience whenever they interact with your website. The website should feature the same content but be scaled and adapted depending on the device being used. And most importantly, it needs to be user-friendly and navigate to get users to perform the actions that they want.
At Zentroa Technologies Dubai, we plan and think about your target audience and how they will engage with your website. And, during the design process, we will show you wireframes and color mock-ups for desktop, tablet, and mobile, so you know exactly how the website will look in most screen sizes.
Optimize the website for search engines.
User searches websites on google from mobiles than desktops, Google decided to use a mobile-first indexing and ranking algorithm in recent times. That means Google will sneak the mobile version of your website when it looks for ranking.
A responsive design website should be optimized for mobile-first indexing which is what Google looking for. Therefore, your website more likely to rank ahead of your competitors who do not have a responsive design website.